Residential & Commercial
At New Dimension Hardwood Floors, we are all things hardwood flooring, It's ALL We Do! We offer an abundant selection of pre-finished flooring that is installed and ready for you to start living on immediately. In both solid and engineered styles, we have something for every lifestyle, aesthetic and budget.
As the area's leader in site-finished hardwood flooring, we allow you to customize your floor with a variety of wood species, stains and finishes. In addition, we are qualified in a number of specialized techniques such as staining, wire brushing, cerusing and patterned floors.
A well installed staircase can be the showpiece to a home. Our craftsmen are skilled in using both pre-finished flooring and solid, site-finished wood for your stairs.
Our specially trained and certified craftsman use the latest in high quality equipment and top of the line stains, sealers and finishes. We aim to use low VOC products and a dust containment system so you and your family can breathe easy.
We are a full-service company. This means we can provide professional movers, appliance moving specialists and touch up painting professionals if needed and as directed by you.



Athletic Floors
Our Athletic Floor division is an important part of our company. We work with a number of schools seasonally around the state of Oregon. We can address anything you need with regard to your gymnasium or athletic flooring including but not limited to:
Installation - Knowledge of subfloor systems and prep. Proper grading of maple.
Sanding and Finishing - state of the art sanding techniques and quality athletic floor finishes, proper care and maintenance procedures.
Striping and Finishing - All court lines are installed following guidelines from NCAA, OSAA and NFHS.
Rebranding - Logos and graphics - Vinyl's used in this process provided by Praters (the leaders in performance decals).
Maintenance Coats - Seasonal, routine maintenance to revive and protect the flooring for safety and quality performance.
Certification - Certified by the Maple Flooring Manufacturers Association (MFMA)
Care & Maintenance
At New Dimension Hardwood Floors, we pride ourselves in providing our clients with the best information on how to take care of their new hardwood floors. We believe that proper care and maintenance is just as important as the quality of work we provide. This is why we equip our customers with all the information they need in order to do so. Unlike other companies, we won't leave you "high and dry" once our vans leave your home. We are here for you and your hardwood floors!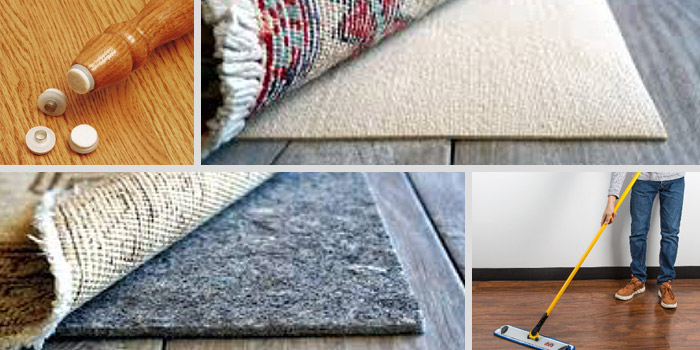 Haven't worked with us before but are curious to learn more about the best way to care for your own personal floor? No problem! Come visit us at our showroom and we will be happy to educate you on this important component to owning hardwood floors!
From cleaning supplies to the proper furniture guards and rug pads, we have what you need to preserve the beauty and longevity of your hardwood floors, for a lifetime.